INSIDE OUR STORY
YOURCE INSIDE
Our members are central to our organisation. They play the leading role in our vision and mission. We believe that our Members can only ensure a good Customer Experience if they themselves experience a super Member Experience. Enjoying your work, developing yourself and feeling mentally and physically fit are important topics within Yource. That is what our way of working is all about.
We are a fast-growing, international organisation. In addition to the impact that we have as an employer on our Members, the impact that we have on society and the world around us is also increasing. This puts our focus on social responsibility and we will continue to grow in this area in the future in an ambitious way. We do this in three areas: Yource People, Yource Planet and Yource Cares.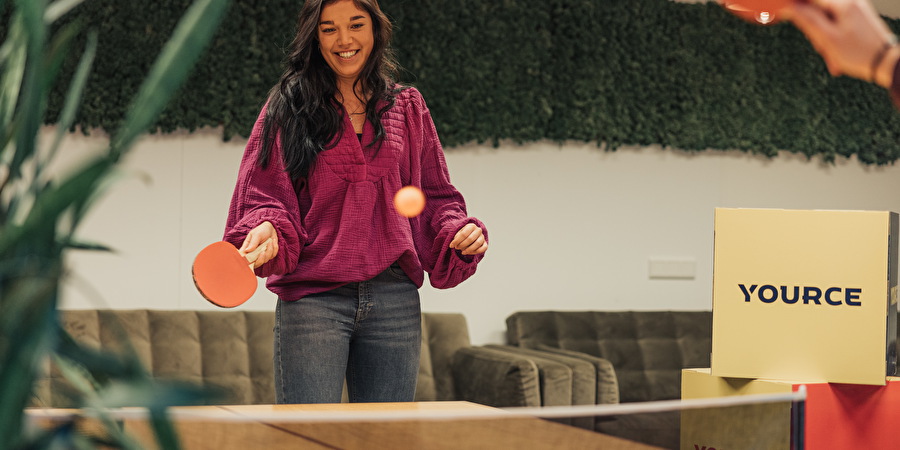 YOURCE PEOPLE
What do we do for our Members?
We consider it very important to be a good employer for all our Members. We do this by focusing on their experience (the Member Experience). This includes providing an environment in which everyone can be themselves, you enjoy going to work in and allows people to feel safe. And it must be a place where you can continue to develop yourself. This helps us to achieve our ambitions. 
In 2024, we want to achieve an average of 8.5 on our Member Experience!
READ MORE
YOURCE PLANET
What do we do for the world around us in terms of sustainability?
We are constantly working to reduce our carbon footprint. Our own, but also those of the suppliers we work with. Based on these relationships, we draw up improvement initiatives, using each other's expertise to minimise the impact in our supply chains.
We have bold ambitions: Yource will be CO2 neutral by 2035!
READ MORE
YOURCE CARES
What do we do for society?
With Yource Cares, we support various social initiatives. Think, for example, of charities that are committed to ensuring a better future. We also support people who are struggling with current issues that play a role in society and we set up our own initiatives to make a real difference. Together with our 12,000 members, we have a wide reach!
Yource Members are actively committed to the charities are committed to as an organisation!
READ MORE
THE PROOF IS IN THE PUDDING
The Yource Members' mark for their Member Experience, i.e. the enjoyment of work
Our E-NPS score shows the extent to which the Yource Members recommend us as an employer
The number of new colleagues who became part of the Yource community in 2022